The Hoods Woods website surival.com has been updated to present you with a fresh new look and new functionality for your convenience.
The page you are looking for can now be found here.
Please make sure to update your links and bookmarks with the new address because this page nor this site will be receiving any future updates. If you would like to be sure to keep up with what the Hoods are up to, you will want to take advantage of our new site.
Webmasters:
If you are reaching this page during a test of your links, please make sure to update your link with the new link found above to ensure that your visitors are getting the most current and up to date information.
Hoods Woods won a 1ST place Telly award for this video in the Best Instructional video category! This outstanding video won us one of the two awards we won in the latest Telly Awards competition for 2003.

More about the Telly awards can be found here
Woodsmaster Volume 13
Desert Survival - On Foot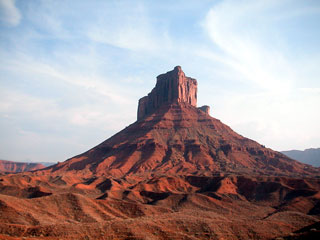 Hot times a' foot!
In this volume of the Woodsmaster we traveled to deserts ranging from the California Mojave Desert to the Bruneau Desert of Idaho to the beautiful desert mesas of Utah's Moab. During the course of our travels we were able to capture the essential skills of on-the-ground desert survival. During the 1 hour and 40 minutes of this great video you will learn the essentials of water location, desert travel, desert shelter, Physiological effects, clothing and protection.
You will see first hand the process of constructing a "solar still" and a "transpiration still" and be able to decide for yourself if these techniques are worth the effort. You will also learn about some of those "movie skills" seen on popular programs... Is it cool to take off your shirt in the desert? Find out...
Here are a few scenes from the 1 hour and 40 minutes of hot instruction... It was really hot!
Learn why Desert travel can be deceptive.

Learn about the physical hazards of the heat.

When we say it was hot out there... it's true.

How hot was the ground though?

Learn how to spot water sources like this.

Then learn why drinking it might not be a good idea. It can still save your life though, learn how.

Learn about Cactus and water.

What is this guy doing?

Huuh? It relates to a game you once played...

 Don't tell me this is about alien space ships.

Learn why cave shelters are a good shade but rock shelters may not be.

Find out why a hole in the ground could save your life.

See real life results of different types of shade.

 Find out how to make effective artificial shade.

See how to turn an old tin can into an improvised whistle.

 learn how to skin a rattler and preserve it's skin.

Learn the "proper" way to make a solar still and then decide if it's worth while.

See the "Transpiration" still and why it can save your life... or take it.

Follow us as we track water sources down a canyon.

Find out about water indicators including vegetation, insects and animals

Popular demand brings back the knife tests. This is the Fehrman Blades 9.5 incher

The Grandfather blade of our knife tests is the TOPS Steel Eagle 111. Watch this baby perform!

Check out the new blades

There is so much information in this video and it is so much fun to watch you know why our viewers rave about it. Here are a couple of examples...

"I have all of the Hoods Woods videos and they are all great but they just keep getting better! This one is the best of all!"

and

"The best yet! keep them coming I need more!"
There are MANY more topics and a ton of tips that could save your life if YOU are on foot in the desert.
This is the most requested video in our series
Desert Survival
Private Label DVD (Click here)
$19.95 DVD
Orders only: Toll Free (888) 257-BUGS (2847)
Information: (208) 665-5537

9 AM to 6 PM Pacific time

MasterCard, Visa, American Express, Discover, Check, or Money Order
Copyright ©2002 Hoods Woods. All rights reserved.