The Hoods Woods website surival.com has been updated to present you with a fresh new look and new functionality for your convenience.
The page you are looking for can now be found here.
Please make sure to update your links and bookmarks with the new address because this page nor this site will be receiving any future updates. If you would like to be sure to keep up with what the Hoods are up to, you will want to take advantage of our new site.
Webmasters:
If you are reaching this page during a test of your links, please make sure to update your link with the new link found above to ensure that your visitors are getting the most current and up to date information.
Survival Basics Video Compilation
A great way to learn about our series!
Now a super value. Both volumes of Survival Basics on ONE DVD!
You get 134 minutes of super quality video instruction for only $16.95!
This DVD has 31 chapters for easy access to information. Great for scouts and schools!
We finally did what many of our visitors wanted... put together a comprehensive, yet inexpensive, set of survival skills videos.
We call these videos Survival Basics because that's just what they are. We took about 20 minutes of the most technique focused material from each of our Woodsmaster videos and compiled this material into a two video set.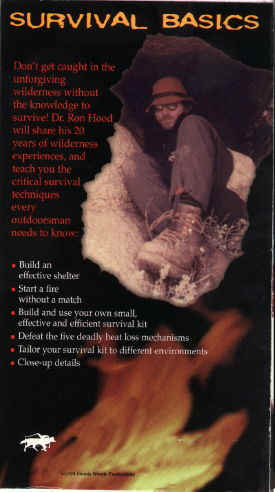 This set doesn't hold a candle to our original Woodsmaster videos but they give you the opportunity to see what is on each of the Woodsmaster volumes and to learn basic survival skills at the same time! They are an incredible value!
---
Why Buy Survival Basics?
You will gain valuable knowledge about the basic and most important survival skills.
Survival Basics will give you a preview into the more valuable Woodsmaster Video Series.
You can learn first hand just what goes into each video and how it is presented.
---
Survival Basics One
has the essential material from Volumes one through three of the Woodsmaster Video Series.
Learn how to...
Build an effective shelter
Start a fire without a match
Build and use your own small effective and efficient survival kit
Defeat the five deadly heat loss mechanisms
Tailor your survival kit to different environments
All with close-up details!
---
Survival Basics II
focuses on the skills found in Volumes four and five of the Woodsmaster Video Series plus Karen Hood's Cave Cooking!
Learn how to...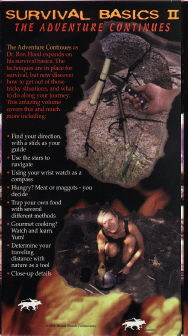 Find your direction with a stick as your guide
Use the stars to navigate
use your wrist watch as a compass
Hungry? Meat or Maggots - you decide
Trap your own food with several different methods
Gourmet cooking? Watch and learn. Yum!
Determine your traveling distance with nature as a tool
All with close-up details!
---
(If you have the complete Woodsmaster Video Series, this offer is redundant. You already possess the best we have to offer!)
---
Order Here or call
Orders only: Toll Free (888) 257-BUGS (2847)
Information: (208) 665-5537

9 AM to 9 PM Mountain time
MasterCard, Visa, American Express, Discover, Check, or Money Order to:
Hoods Woods
P.O. Box 3683
Coeur D'Alene, ID 83814

---
Copyright ©1998 Hoods Woods. All rights reserved.