The Hoods Woods website surival.com has been updated to present you with a fresh new look and new functionality for your convenience.
The page you are looking for can now be found here.
Please make sure to update your links and bookmarks with the new address because this page nor this site will be receiving any future updates. If you would like to be sure to keep up with what the Hoods are up to, you will want to take advantage of our new site.
Webmasters:
If you are reaching this page during a test of your links, please make sure to update your link with the new link found above to ensure that your visitors are getting the most current and up to date information.

Woodsmaster
©
Volume 1
Spark Based Firemaking
Hosted By Ron Hood
---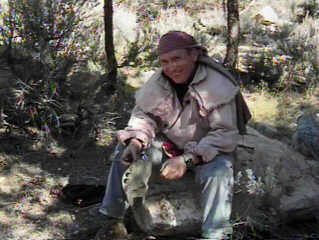 In the first volume of the Woodsmaster© Video Series, you will discover the secrets of Spark Based Firemaking! You will learn how to create that first spark using tools like the Firebow, Flint and Steel, the Metal Match, and even a flashlight!
The firebow section alone includes over 30 minutes of detail covering the collection of materials, preparation, construction and use of the firebow! You will learn carving secrets, tool selection, basic cordage theory and safety. And tucked away here and there are some of the special Woodsmaster wilderness tricks that really pay off. There has never been a clearer, more effective, instruction on the use of the firebow. If you ever wanted to learn fire by friction, this is the video you need!
---
All together, there's 1 hour and ten minutes of blaze-making instruction!
These images are taken from actual video footage
---
Learn the secrets of the Firebow!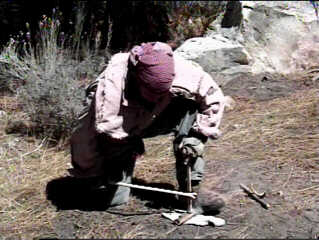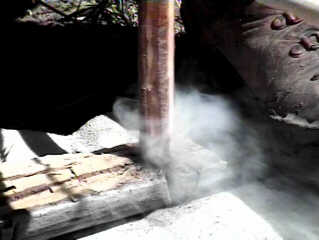 ---
Learn how to gather the materials, prepare the parts, and construct a working firebow!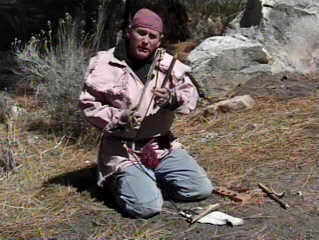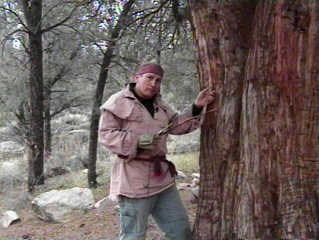 ---
Learn the basic concept of cordage making.
(A future video will teach you all the tricks for cordage construction with a variety of natural materials!)
---
Learn other techniques for getting that first spark, including the use of a flashlight as a firemaker!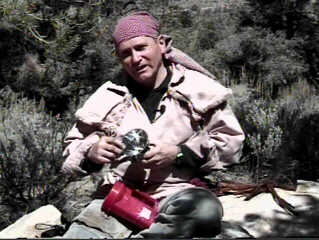 ---
See how to use Flint and Steel, The Metal Match and the Magnesium Fire Starter!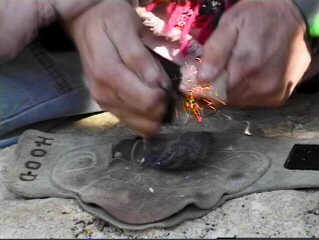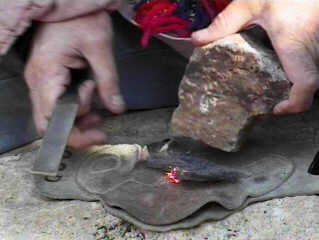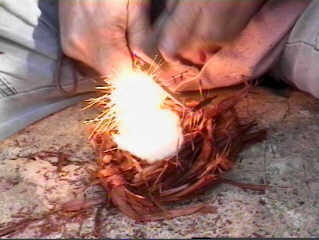 ---
Private Label DVD (Click here)
$19.95 DVD
---
Order Here or call
Orders only: Toll Free (888) 257-BUGS (2847) 24 hours
Information: (208) 665-5537 9 AM to 6 PM Pacific time