The Hoods Woods website surival.com has been updated to present you with a fresh new look and new functionality for your convenience.
The page you are looking for can now be found here.
Please make sure to update your links and bookmarks with the new address because this page nor this site will be receiving any future updates. If you would like to be sure to keep up with what the Hoods are up to, you will want to take advantage of our new site.
Webmasters:
If you are reaching this page during a test of your links, please make sure to update your link with the new link found above to ensure that your visitors are getting the most current and up to date information.
Hoods Woods won a 2nd place Telly award for this video in the Best Instructional video category! This outstanding video won us one of the two awards we won in the Telly Awards competition for 2001.

We also won 1st place for the Best Non-Broadcast Documentary video for our Jungle skills video.

More about the Telly awards can be found here
Woodsmaster Volume 9
Primitive Knifemaking
How good is this information?
In Volume 10 you will see how we used the information in this video to construct this wilderness forge!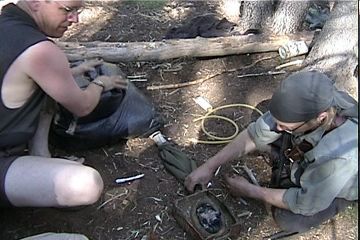 NOW
Steel yourself because in this volume of the Woodsmaster...
Ron and Karen Hood take you to Arizona to meet two of the leading knife makers in the Neo-Tribal Metalsmiths.
Tai Goo and Tim Lively (click to visit them) reveal the secrets of materials selection, forge building, tools, techniques and tempering so you can make your own terrific tools or blades at home or in the field. Why buy expensive knives when you can make your own...from JUNK?
Once you've seen these techniques you will have the knowledge to make metal tools in the field. Find a horseshoe, build a primitive forge and a fire. Then, with a rock or a hard stick, you can heat and pound that piece of rusted junk into a usable and effective tool or weapon.
You will learn that you don't need electricity, power tools or boat loads of money to make beautiful, functional and durable knives or other metal pieces. You will see that you can build a forge in your own back yard and you don't need Arnie's arms to hammer hot steel. It's all in the technique…
1 hour and 45 minutes of amazing material that will give you even more skills to help you along on the road to self-sufficiency.
Don't miss it!
Scenes from the video. You'll be instructed every step of the way.
Tai Goo

Tim Lively

Tai discusses good knife making materials

Tim's Bladesmithing area

Tai Splits hot steel with a chisel

Tim Shows the steps in preparing steel blanks

Tai demonstrates his forge while his loyal slave looks on..

Tim is so primitive he won't even use a match!

The Steel car spring starts to look like a knife

Tim counter bends the blade blank

Not bad for a chunk of hammered steel!

Tim forges the "tang" and shows how to find the correct forging colors

Tai uses a steel pipe to harden

Tim tempers a blade with big tongs

Tai dips hot steel into oil to harden

Tim shapes a butt cap for the knife

Tai holds the finished blade... 3 hours!

Tim fits the butt cap with a hammer

Is it flexible? Check this out!

Tim shows how to use Pine sap and deer

dung as a glue for the handle

Tai cuts a steel bar with his new blade!

The finished product! See it become a knife from start to finish...

Tai's apprentice Jeff, shows off the knives he has made after three months of working with steel.

Tim's wife Marian shows her unusual anvil

made with a bowling ball!

Jeff's back yard forge... You'll be amazed!

Some of Marian's hand made friction folders

Some of Tai's hammer forged blades

One of Tim's old style Bowies
To order: Primitive Knifemaking
Orders only: Toll Free (888) 257-BUGS (2847)
Information: (208) 665-5537

Copyright ©1998 Hoods Woods. All rights reserved.