The Hoods Woods website surival.com has been updated to present you with a fresh new look and new functionality for your convenience.
The page you are looking for can now be found here.
Please make sure to update your links and bookmarks with the new address because this page nor this site will be receiving any future updates. If you would like to be sure to keep up with what the Hoods are up to, you will want to take advantage of our new site.
Webmasters:
If you are reaching this page during a test of your links, please make sure to update your link with the new link found above to ensure that your visitors are getting the most current and up to date information.
About Hoods Woods!
Hoods Woods Wilderness Programs
About Us Main Page - Programs
---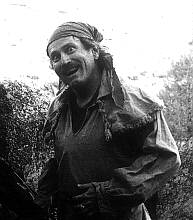 (Notice: Hoods Woods no longer conducts "open enrollment" wilderness programs. Too many worms, too many miles and not enough sleep get to a guy after a quarter of a century. We have learned that we can provide better instruction at a lower price to more people through our video instruction series. We can also cover more topics better than you will ever see in the field.)
If you are determined to go into the field with us, we do train private groups. It is not inexpensive but everyone has their price... ;>)
Not only that but we have identified a number of first class wilderness educators. You can read about them HERE.
We offer the information below as an historical reference and as a way to understand our philosophy.
During the 25 years that Ron Hood has been conducting wilderness courses, our programs have developed and grown to meet the changing priorities of our client's need for wilderness adventure. To date, over 5000 folks from all walks of life have traveled into the mountains and deserts with us to learn both basic and advanced wilderness skills.
The Hoods Woods programs are more than just guided wilderness trips. They are learning adventures. They are a sophisticated blend of technique, Wilderness Lore and Skills as well as Knowledge and Self-Discovery. They combine the best of modern scientific knowledge and the ancient learning's. Utilizing today's knowledge to help explain the reasons for many primitive beliefs and skills, we are able to create a link between the past and the present. Refined teaching techniques bridge the gap between the ancient and the modern in a way that makes the path from yesterday to today clearer and more exciting than ever before.
If you are new to the wilderness... This is where to start. If you've been a woodsy wanderer for some time, this is where you fill in the gaps and begin to pass on your lore.
The Hoods Woods wilderness programs emphasized Survival Skills training.
Most of our programs took place in the spectacular Sierra Nevada Mountain Range. Two of our favorite program areas were the rugged Domeland Wilderness where we conducted our most advanced programs and the isolated Golden Trout Wilderness, which was used for the extended summer trips.
We would also like to strongly suggest that you invest in the Woodsmaster videos. We've learned through hard won experience that folks who take the time to learn the skills taught in the videos "Hit the earth running" once they get to the mountains. If you start your education with the video series you will be prepared to take advantage of the full range of advanced skills and experience we offer.
---
NO LONGER AVAILABLE!
8-Day Skills Trip (Skills)
Food and Equipment
The 8-day skill trip offers much of the training and challenge of the 8 day limited food trips, but with full equipment and food. These programs are recommended for those who would like to learn the basic primitive skills and survival techniques but who do not have prior survival training. The trips are excellent starting programs for couples who would like the adventure of backpacking and survival camping as well as an opportunity to share the wilderness.
8-Day Survival (Test)
Limited food
These Eight-day Survival camping trips with limited food and equipment are limited to folks with previous survival or backpacking experience who want to test their stamina and resolve in a HIGH SIERRA wilderness setting. These trips are recommended for folks who want a real sense of survival living, a full complement of survival skills training and an opportunity to FEEL the survival priorities.
8-Day WASP
nearly nothin'
The Wilderness Advanced Survival Program (WASP) is designed to provide the maximum safe challenge in the wilderness. Participants must have prior survival training experience and be in good health. These 8-day programs focus on the implementation of previously learned primitive skills as well as advanced studies in primitive living techniques. Food is very limited, as is equipment. We provide everything except personal items and travel.
Hoods Woods also offered private, individual, and theme programs for those who wanted to have a program tailor made for their needs and interests. We are members of ACPA (Association of Celebrity Personal Assistants). You can count on our discretion.
Thanks!
---

About Us Main Page - Programs - Skills

Copyright ©1998 Hoods Woods. All rights reserved.