Home
Make sure to get all the benefits of the full survival.com family
---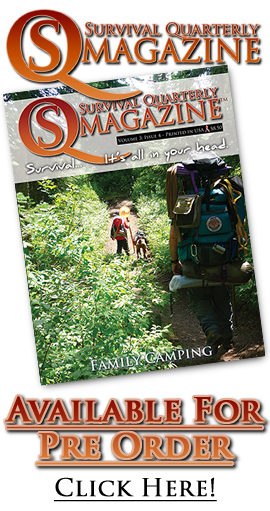 Visit Survival Quarterly Magazine at:
www.SurvivalQ.com
Facebook.com/SurvivalQuarterly
Twitter.com/Survivalq
In this issue:
Tails from the Trails
By Ron Hood
The Kids Don't Need to Know
By Joshua Swanagon
Variety is the Spice of my Life
By Ted Nugent
When Nature Calls
By GySgt Dave Williams
Making Knives in the Field
By Mykel Hawke
Camping Takedown Arrow
By Curtis Fidler
Train Up The Children
By David Wescott
Camping Safety
By Doc Bones and Nurse Amy
On Knives and Knife Making
By Joe Bigley
Hunting and gathering Family Style
By Forrest Galante
Family Camp Boredom Busters
By Joe Flowers
Old Style Camping
By Reuben Bolieu
Review of Maxpedition Hard Use Bags!
By Karen Hood
Sub Caliber Trainers
By Peter Burlingame
A very exciting contest with a great prize!
And much more…
---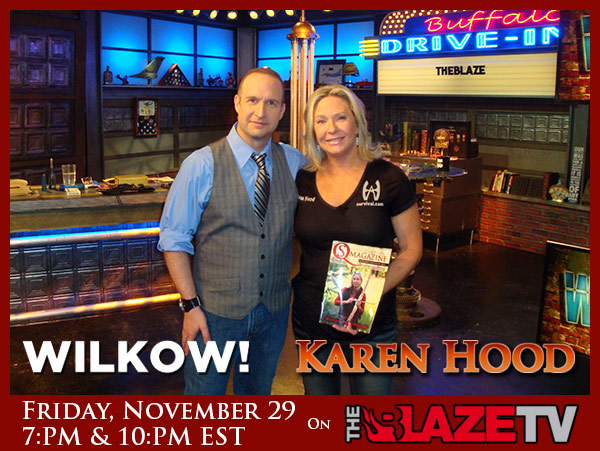 Watch Karen Hood Friday night, November 29th, at 7 & 10:PM EST on the Wilkow Show on Glenn Beck's "The Blaze TV" network, where her and Host Andrew Wilkow discuss how to prepare for an EMP event.
---
Today (June 22nd) has been declared Ron Hood Day. If you feel inclined watch some of Ron's videos in his memory please do. He has and still continues to teach and inspire people all over the world. Rest in peace Brother, until we meet again.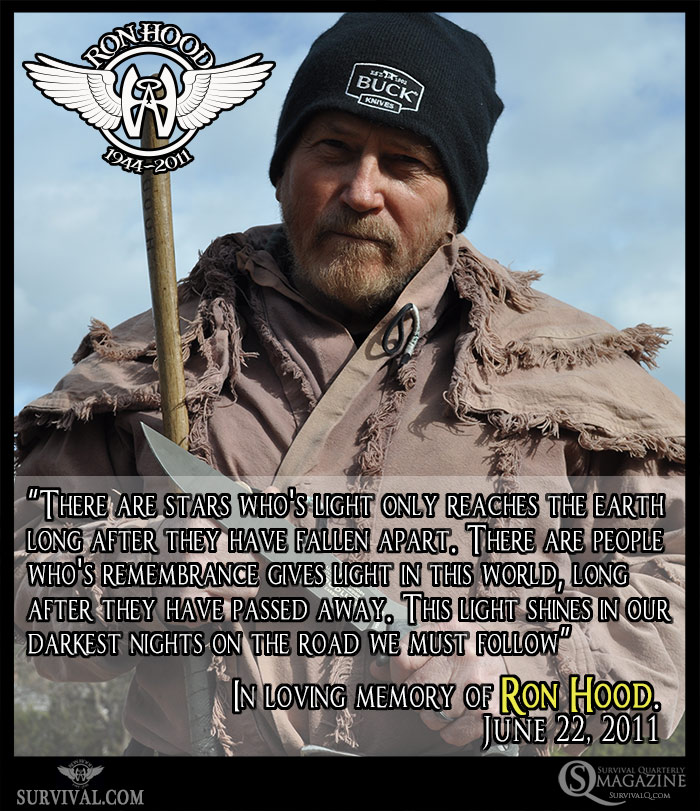 ---
---
On Thursday, January 31 2013 Karen Hood joined Doctor Prepper CPR on the Preparedness Radio Network for a great interview. They spoke about Survival.com, Survival Quarterly Magazine and took a stroll down memory lane about her and Ron's life together.
After holding the #1 spot on the Preparedness Radio Network in a previous interview, PRN finally found a guest that could knock Karen out of that coveted #1 spot. It was Karen. With 14,000 downloads in just a few days, Karen has managed to top herself in this latest interview with a new #1 interview on PRN. Make sure to listen to the interview that has so many people listening below.
---
The Cave Cooking Cookbook from Karen Hood
Make sure to purchase your download today!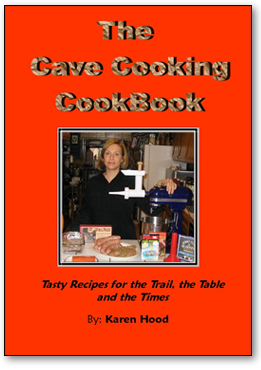 While your in the survival.com store purchasing the latest copy, or previous copies, of Survival Quarterly Magazine, or taking advantage of some of the great DVD deals, make sure to purchase your download of Karen Hoods amazing Cave Cooking CookBook for the low price of $7.95. Get the goods from the Queen of the Cave herself.
And remember, this is a digital download book, so there is no waiting on delivery. By it now, get it now. You could be fixing your family a delicious treat by tonight.
---
Listen to Karen Hood!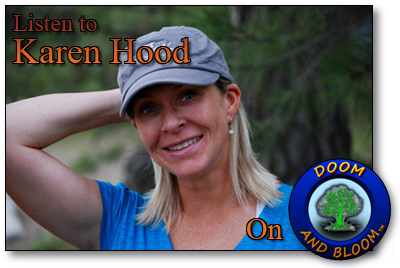 on the Doom and Bloom Hour on the Preparedness Radio Network!
Karen spends some time speaking with Dr. Bones and Nurse Amy on the latest episode of The Doom And Bloom Hour where she shares excellent advice on survival related topics, discusses her life and partnership with the infamous Ron Hood and reveals some outstanding news on some upcoming projects. Make sure to listen, you will be happy you did.
---
Ron Hood Day!
Hoods Woods declares Ron Hood Day June 22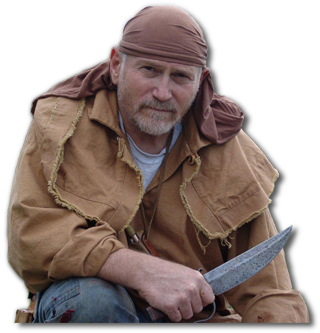 Ron Hood touched so many hearts, and influenced so many people's lives in the span of his own, that it is with a heavy heart and great sorrow that we will always remember the tragic loss of our great WoodsMaster. One year ago on June 22, Ron Hood passed away in his sleep, as peacefully as any warrior can hope for.
Despite our heavy hearts, we here at Hoods Woods don't want this day to go by without celebration and remembrance. June 22 is hereby declared Ron Hood Day.
What does one do on Ron Hood Day?
We suggest that you watch one of Ron's videos if you have one available to you.
We suggest that you take time to do something to honor your family and friends.
Remind them that they are loved.
Show appreciation and kindness.
Spend as much time as you can today creating memories and passing down your own to those for whom you live your life.
Remember that life is very, very short; that in the moment you least expect it, everything can change.
Most of all, remember that no matter how many miles you have to go before you sleep, live in and for this moment.
Life is so incredibly precious and fragile. Cherish it with every breath and with every action. My son Jesse and I are so grateful for what Ron gave us – not just in legacy, but in love, in fatherhood, and as a husband. He was the best of the best in every realm, and we will never forget him.
I cannot express enough how much your support continues to mean to Jesse and I, and everybody else who is part of the team at Hoods Woods. You give us hope for a brighter tomorrow, and you make everything we do worthwhile. Thank you all so very much.
I'd also like to say a very warm Happy Father's Day to all of the incredibly wonderful fathers out there. Enjoy every moment.
Very sincerely,
Karen Hood
---
---
Meet Karen Hood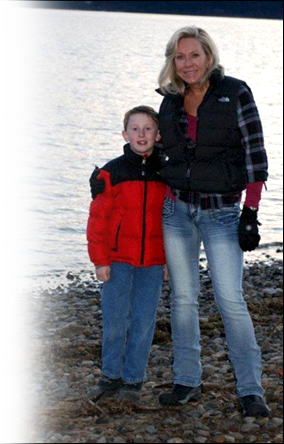 Want to get to know Karen Hood a little better? Here are a few great opportunities to learn more about the Queen of the Cave.
Listen to Karen's April 18, 2012 interview on Equip2Endure's Podcast.
You can hear it here:
Karen Hood Podcast Interview
If you like Karen in the award winning Hoods Woods video library, you'll love her in person.
Read the online press release with all the great details about Karen Hood:
You can read it here:
Meet Karen Hood
You can also download the printable PDF version with a beautiful high res photo of Karen here:
Press Release
---
Karen and Buck Knives do an interview with Nutnfancy at the 2012 Shot Show
---
Special Edition Tribute to Ron Hood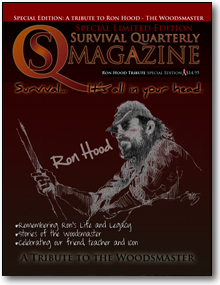 Place your order now and make sure to get your copy of this Special Limited Edition of Survival Quarterly Magazine.
This issue is a stand-alone issue and there are only a limited number available for purchase.
Help celebrate Ron's life and legacy. Read stories from Ron's life from Karen, Jesse, Family members and friends and other professionals in the industry. You will get a glimpse into Ron's world. This Tribute Issue will allow you to see what a truly unique and inspiring person Ron was.
In this issue we share private stories about Ron as well as never seen before pictures of the Hoods.
This issue is shipping now. Remember there are only a limited number of these issues available so get your order in before we sell out…..
Click here to get your copy today:
http://survival.instantestore.net/pd-ron-hood-special-edition-tribute.cfm
---
Limited Edition Fine Art Print Offering From Hoods Woods…
Hoods Woods is proud to present this handsome Tribute Portrait of Ron Hood by renowned artist Tom Fritz. Tom was a student of Ron's at CSUN in the mid '70s. From his personal collection of images, he created this inspirational artwork reflecting on the son, husband, father, friend, and teacher who positively impacted the future of so many.
Limited to an edition of only 180, each print is produced using the giclée process on an archival watercolor sheet measuring 21.5″ x 17″. Hand-signed by Karen Hood, Jesse Hood, and the artist, each print is accompanied by a Certificate of Authenticity. Available at $200 USD plus $15 shipping (within the continuous 48 states).
We also offer a framing option!
Using archival materials, your print will be protected within a handsome 26″ wide x 21.5 high" velvet black finish frame, behind a single, two-inch wide, reverse-bevel cut rag mat, available in either 'Coffee' or 'Flagstone'. Clear acrylic glazing. A wire hanger with hook and nail are supplied. Your print will arrive to your door, ready-to-hang for $275 USD plus $25 shipping (within the contiguous 48 states).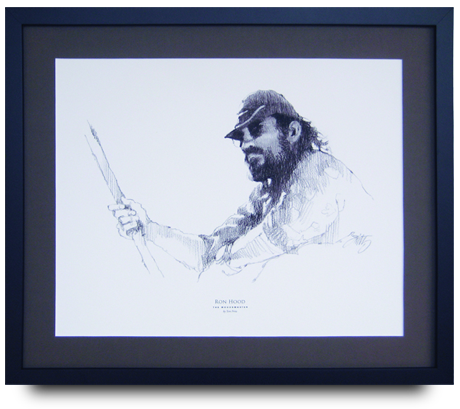 Please note: Each print is a custom order. Please allow three weeks for delivery.
Click here for more information:
http://fritzart.com/gallery.php?which=other_artwork_prints
---
Special Thanks From the Entire Hood Family
Karen, Jesse and the entire Hood family want to specially thank Rich Neyman, author of the Buck Master Book www.thebuckmasterbook.com and Jeff Randall and his staff at ESEE Knives www.eseeknives.com for the recent auctions for the special edition Hoodlum Blade they held. Rich, Jeff and ESEE Knives have been so very helpful of the Hoods. Please visit their websites and our sponsor's websites and let them know that we sent you to them. We are very touched at the outpouring of support we have received after the death of Ron. We are very blessed. -Karen and Jesse Hood
Please visit their fine sites and show your support for their great products and outstanding character.
ESEE Knives
The Buckmaster Book
---
Sad news. Our beloved Woodsmaster Passes Away
Dear Customers, Family and Friends,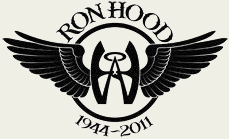 It is with the deepest sorrow that I must announce that our beloved Woodsmaster, Ron Hood, my best friend and the father of our 7 year old son Jesse passed away in the early morning by my side of a very sudden heart attack on June 22nd.
This was the morning that we had scheduled to leave for our annual gathering in Salmon, Idaho. He was under a huge amount of stress from his diagnosis of prostate cancer (caused by Agent Orange Exposure in Vietnam) in November and all that goes with it and growing our business and taking care of our family. He also suffered from Coronary Artery Disease that many of you may not have known. These past few months have been very hard on our family. Ron was a hard working man and he did it all for Jesse and I. It was the most terrible day of our lives.
We are truly touched by the outpouring of love from all of our customers and friends and all the beautiful things that you have shared and said about not only Ron, but our beautiful family. I am so upset Ron is not here to see it. I do not think he fully understood how very special he was to so many people. I have known this about him since the very first time I met him, though. He was my hero. He was Jesse's hero. He was a real man, a great husband and a wonderful, loving father as well as a loyal friend. Ron was a gift to me and Jes and the love of my life and he brought sunshine to me and my son every day of our lives.
I am in shock still and I can't even believe that I am having to write such an announcement.
I want to specially thank Buck Knives and the Buck Family as well as Mike Fuller of TOPS Knives for the support and friendship they have extended to Jes and I during the most difficult time of our lives. We may have lost a husband and father, but I do believe we have gained a family in Buck Knives and we have always known Mike is part of our family. Thank you Joshua for posting this for me and to everyone who is helping me right now.
Please know that I will be doing everything in my power to continue Ron's legacy. We have many projects in the works that I will see to fruition.
Until further notice and thank you to everyone.
God Bless you all,
Karen Hood
Click here to read Ron's beautiful Obituary
If you didn't know Ron, he was an amazing man, here is his YouTube video channel that will give you a great introduction to the legend that is Ron Hood.
You can also view a great video homage to the Buck Hoodlum in memory of Ron's Legacy provided by Nutnfancy.
---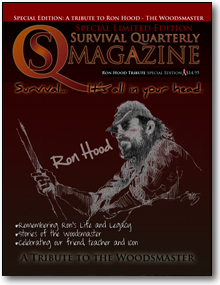 We suppose that in a way we knew it, but modesty would prevent us from expecting it,
Survival Quarterly magazine
has been a runaway succes and has reached subscription and sales levels that rival established outdoors magazines by only it's second issue.
It's probably no surprise considering that this magazine calls on the expertise of some of the greatest minds in the survival/preparedness industry to cover a myriad of topics that are important to you in the field and at home. This magazine will help answer some of the questions that have weighed heavy on your mind regarding surviving adverse situations, and will also answer questions you don't even know you have yet.
Never before has this depth of experience and knowledge been gathered in one place for the sole purpose of imparting wisdom to you. If you love the Hoods Woods video series then you will love the magazine.
Each issue will cover topics including wilderness skills, firearms, blades, urban survival, preparedness, cooking tips, general advice and much more. We even tossed in a few mind benders and laughs. This is the magazine you have waited for!
Get it for yourself, or as a gift for that special someone in your life.
UPDATE: SQ Magazine Subscription Information:
Survival Quarterly Magazine is taking single magazine sales from here on out. If you have a Subscription, your subscription will be filled. Once your subscription runs out, SQ Magazine will need to be ordered singly or in our discounted Gift Set. For more info and why we have changed the way we sell the mag, read here:
Check here for more subscription information and single issue purchase.
---
NEW!! Survival Quarterly has gone digital, get the back issues of our E-Zine for only $4.95!
Survival Quarterly is available for electronic download! Don't want to pay the cost of postage? Want to save a tree? Want to keep your SQ magazines safe and portable?
We chose the top of the line Emagazine publisher to handle this for us. With page turn realism, zoom in capability for up close viewing of photos, printing and sharing this is an awesome, enduring, value.
Click here for immediate gratification and to download your back issue of Survival Quarterly:
Survival Quarterly back issues
---
Hoodlum blade gets top honors in Tactical Knives Magazine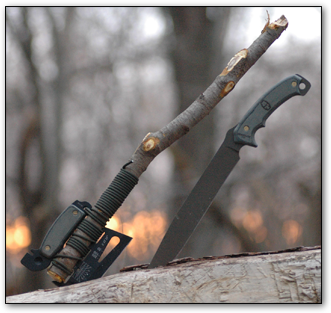 The Hoodlum Blade and the Hoods Woods ATAX make ideal companions.
Recently, the culmination of years of trial and error, design after design, prototype after prototype and model after model the Hoodlum blade has hit the market. We did a small run of 50 numbered blades and they went like hotcakes.
Since that time, Tactical Knives Magazine did a review of the Hoodlum and blessed it with top honors. This is a big deal and says a lot for the years that have gone into the development of our flagship knife. As you would expect, Tactical Knives Magazine does not just give top honors to any blade, it has to pass rigorous tests, evaluation and careful selection for such an honor. But considering the tests that Ron put it through, and then the continued rounds it was put through by some of our finest fighting forces we weren't scared, we knew this knife was up to the challenge. Thank you Tactical Knives for the honor.
Buck Knives and Hoods Woods Join forces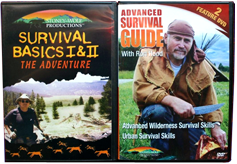 Not familiar with the Hoods yet? This is your big chance. With the Hoods Woods introductory videos you get a great start in the world of self reliance in survival situations, not to mention the opportunity to become acquainted with one of the worlds foremost leaders in survival instruction. Ron Hood has forgotten more about survival than most people will ever know, and he makes it his mission to impart his knowledge to you in a fun yet concise manner that will leave you more confident in the field than you ever thought you could be.