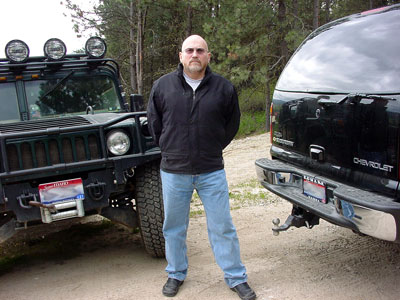 Hosted By Ron and Karen Hood
---
You'll learn how to carry your "get up and go" survival kit in an unobtrusive garment. Here Ron is carrying the important items, Two days of food, water, shelter and self-defense…. You'll see how.
Now, more than ever, is the time to prepare for an uncertain future. Even our great nation is suffering from destabilization brought on by poor leaders, bad laws and foreign influences. Get ready to save yourself and your family!
Ron and Karen Hood are pleased to announce the "UrbanMaster"©.
"UrbanMaster"© is a video series that teaches you the skills for dealing with emergencies arising from personal, social, economic and international threats. These preparations can be critical to you and your family in the event that the "safety net" collapses and you find yourself forced to deal with life threatening conditions in the urban environment.
We will show many techniques including food storage, personal and home security, survival kits for the person, the vehicle and the home, home emergency planning and travel. You will see many of the tips and techniques we've discussed in articles found on the Hoods Woods site as well as a huge number of topics we have not discussed. This will be the most comprehensive urban survival instructional set ever compiled.
The videos will be released in this topic order;
Threats and Defense – your home and person – Volume 3
Special Urban Skills – Volume 4
Recovery – Volume 5
You will see: (Partial listing)
Home based preps:
Family emergency planning
At home plan for disaster and fire
Kids, school and work
"Get up and Go Kits" (Portable Survival kits some times called "Bug out bags" (BOBs) This segment is extensive and covers concealed carry systems for gear, food and weapons)
Home "Safe room":
Choosing a safe room
It's purpose and how to set it up.
Examples of safe rooms and home security from South Africa
Use of a Home survival kit, contents of kit
Sealing a room for NBR
Air systems for NBR
Water.
Storage containers
Hot tub and pool water
Purification
Monoxide sensor, fire sensors
Light/power
Battery
Windup
Independent power systems
Candles
Fuel lanterns (Monoxide)
Phantom power loads.
Communications
Phones
Radio/TV
FRS radio
CB radio
Cell Phone
Heating
Fireplace
Vent less Propane
Electric
Foam board shelter
Transportation alternatives
Home Defense
Home defense (active)
Firearms selection
Shotgun
Handgun
Rifle
Gas
Other topics!
Hotel safety
Anti theft tricks,
Fire safety and gear
Travelers hazard identification.
Privacy issues including spy cams, spy cam detectors and field expedient camera detection.
Learn about flu and pandemic precautions,
How to hide your personal survival gear,
Hidden gear carrier systems.
You'll learn how to blend into any population.
See safety tips for women and kids,
MRE tips and tricks with the MRE heater*.
Learn about Bug Out Bags, their contents and the philosophy behind them
*MRE = Meals Ready to Eat
---
Each DVD only $15.95
Order information Here or call
Orders and information: (208) 651-6309
MasterCard, Visa, American Express, Discover, Check, or Money Order