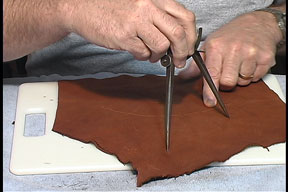 Hosted By Ron Hood
---
"Crafts for the Field" covers  some of the skills we get asked about most . This video investigates the  thermoplastic called Kydex and how to mold and use it. It shows you how to cover  a Kydex sheath (one you already own or one you make following the video  instructions) with leather to give the sheath that Woodsmaster look without  losing the safety of Kydex.
The video shows you how to make  a small concealed carry holster from kydex, how to make leather buttons, a ditty  bag, and a special Woodsmaster fingerless glove. Along the way you will learn a  bunch of special Woodsmaster tricks and techniques. The skills in this video can  save you much more than the cost of the video AND give you the skills you need  to make your own gear for the field.  It's a stunner and fun to watch as  well!  (1 hour and 45 minutes)
(Actual  screen captures from the video….)
| | |
| --- | --- |
| You won't always have a ruler  with you. See why it's important to have a measuring technique you can count  on. | Trash from a construction site can  be very useful when working with leather. See how! |
| You can buy or make your own  tools for leather working. | Learn about Kydex, the  thermoplastic and how to work it. |
| You'll see how to make a simple  knife sheath with Kydex | Once you are finished it will be  serviceable but lets make it better! |
| We'll show you how to cover your  Kydex sheath with leather. If you already have a Plastic sheath and want it  to look woodsy… these instructions are for you! | Not only will you learn to make a  woodsy but safe sheath you'll learn how to make "conchos" |
| See how to make this fingerless  glove. | Learn how to make leather buttons  like this from scraps. |
| Learn a technique that saves  leather and helps you make a cool leather ditty bag. | This is that bag… It does more  than hold stuff though… |
| It makes a passable leather cap! | See how to make a concealed carry  holster and then cover it with leather… this one we made in less than five  minutes! |
 This video can save you hundreds of  dollars. With the skills you will learn you can start fabricating holsters,  sheaths, cases and a ton of other things you will use in the field. Why buy it  when you can make it for 1/10th of the price?
---
Each DVD only $15.95
Order information Here or call
Orders and information: (208) 651-6309
MasterCard, Visa, American Express, Discover, Check, or Money Order