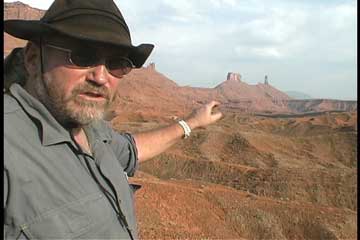 Hosted by Ron Hood
---
The WOODSMASTER© Video Series
What's a Woodsmaster?
"When I was a kid growing up and playing in the woods I met an old guy who went by the name "McCaleb". Mac as I came to call him, talked about the old time woodsmen and many of the tricks they had to deal with wilderness living. He called these folks "Woodsmasters" because they had special skills that made them masters of the woods, each and every one of them had the essential skills to make it on the land. That is the purpose behind this video series… to teach the skills needed to live in the wilds…. like a Woodsmaster."
This series presents the special skills that can make your time in the wilderness more enjoyable, safer and make you far more confident. The videos are hosted by Ron Hood who will show you many interesting and important wilderness living and survival skills. The presentation of these skills is enhanced with clear explanation, great photography and many of the special "little tricks" that few but the most experienced Woodsmaster will ever know.
Volume 1 – Spark Based Fire Starting
The Firebow! Now you can learn how to make fire by friction! Learn how to use Flint and Steel, the Metal Match, and a Flashlight Fire! This tape covers materials selection and amazing special tips. This is essential information for any woods person. (70 minutes)
Volume 2 – Survival Shelter Selection
Learn the survival priorities and how to meet them! What is the rule of threes? You learn the heat loss mechanisms, site selection, pine log shelters, the Firebed, and more incredible Woodsmaster Tips, Lore and Techniques. This tape is a stunner! (80 minutes)
Volume 3 – Making and Using your Outdoor Survival Kit
What goes into a Survival kit, How to carry it. Discover how to make and use the amazing Mini Kit, it's so small it almost disappears in your pocket! The Maxi Kit, It's still small but it gives you so much to work with. Learn Wire Snares, Fishing tricks. A bee and a bird trap with a coffee can, animal hooks, the Delbow Pocket bow and arrow, the twitch up snare, tube tent tricks, a snare wire compass. Discover INNOVATION, and a bunch of special Woodsmaster tricks and techniques. This information can save your life! (a whopping 95 minutes)
Volume 4 – Primitive Navigation and Wilderness Travel Techniques
You'll learn the Ottomani pocket Sun compass. Night navigation, Shadow stick tricks, "Self Tracking", The Vietnamese Montegnards "bu cat" walking stick technique, the Plainsman stride and lock step, more techniques for telling direction, distance and height, trail travel energy saving techniques, hydration information and a ton more… Including the beginnings of the Lithic arts (Stone tool making)! (84 minutes of navigation wisdom)
Volume 5 – Traps and Trapping
(Telly Award Winner )
We thought long and hard before preparing this volume of the Woodsmaster. The more we thought about traps and trapping, the more we realized that this sensitive subject is one of the most important wilderness skills! After shelter and water, food is the key to survival living in the wilderness. This video covers the basic "engines" of machine type traps, techniques for setting and using snares, and much more. If you can't feed yourself after watching this video… you need a supermarket! Feed yourself for a lifetime! (88 minutes)
Volume 6 – Primitive Weapons Technology
Learn about the Viet Cong cross bow a simple and elegant solution to getting game and defending yourself. Learn how to "tiller" a functional bow and make arrows. See how to make and use an atlatl. Learn the skills and techniques of the sling, the throwing stick and a bunch more! Learn some basic hide tanning techniques and more information on the Lithic arts… Pressure flaking. (107 minutes)
Volume 7 – Jungle Living Skills
(Telly Award Winner)
Hoods Woods went to the Amazon rain forest to practice the art of jungle survival! Learn to make an authentic jungle blowgun, make a bowl from mud to mug, learn how jungle beer is made, learn to prepare a monkey, construct a jungle trap, capture and eat alligators and more. Learn how to call jungle birds to your dinner pot, how to prepare your gear for hot-wet conditions and you will see how an isolated tribe of natives, the Chapra-Candoshi live in the heart of the jungle. This is a ground breaking video. Discovery with an attitude! This tape may be rated BBR (Barf Bag potential :>) (96 minutes)
Volume 8 – The Fundamentals of Tracking
One of the most important — and most difficult — skills of the Woodsmaster is the ability to track. In this volume of the Woodsmaster we examine the fundamental skills related to the art of tracking. We show you the "Four principles of sign," how to read "Action indicators," and ways to learn the age of a track. You'll see how to make and use a "Tracking pit" and exercises you can do to sharpen your tracking skills. Since light is critical to effective tracking you'll see the secrets of good lighting as well as dozens of Woodsmaster tracking tips and techniques.
In this volume we use the human footprint as the best way to learn tracking. If you practice however, you will be able to track anything that leaves "Sign." (98 minutes)
Volume 9 – Primitive Knife Making
(Telly Award Winner)
In this video you learn the secrets of materials selection, forge building, tools, techniques and tempering so you can make your own terrific tools or blades at home or in the field. Why buy expensive knives when you can make your own…from JUNK?
Once you've seen these techniques you will have the knowledge to make metal tools in the field. Find a horseshoe, build a primitive forge and a fire. Then, with a rock or a hard stick, you can heat and pound that piece of rusted junk into a usable and effective tool or weapon.
You will learn that you don't need electricity, power tools or boat loads of money to make beautiful, functional and durable knives or other metal pieces. You will see that you can build a forge in your own back yard and you don't need Arnie's arms to hammer hot steel. It's all in the technique… (1 hour 45 minutes!)
Volume 10 – Survival Camping
Just click on over to the pictures from this video. When you get there you'll see why we can't really explain this video without photos…. It's fun, instructional, adventurous and it's amazing! (1 hour 58 minutes!)
Volume 11 – SOLO: The Quest for Survival
(Telly Award Winner)
Follow Ron Hood as he travels deep into the mountains of Idaho for a two-week test of his survival skills. During his adventure he is poisoned by bad food, attacked by a moose and finds that a forest fire has destroyed most of the small game and fish. To top it off the summer weather quickly became a two week winter storm. With less than a pound of food for the two weeks and only a blanket and a tarp for shelter in the subfreezing temperatures you will learn how even a planned survival test can quickly become the "Real thing" (1 hour 58 minutes!)
Volume 12 – Arid Land – Vehicle Survival
(Telly Award Winner)
In this video you will learn the tricks and techniques needed to get your vehicle out of trouble and back on the road. A broken down or stuck vehicle is the cause of the vast majority of survival incidents reported each year. With these skills you can avoid becoming a statistic. (1 Hour 44 minutes)
Volume 13 – Desert Survival; On Foot
(Telly Award Winner)
This is the one we have been asked for more than any other topic. This video covers the tricks and techniques for survival on the ground, in the desert. Topics covered include travel, shelter, water, physiology and much more… Heck just click on the title and see some pictures and learn more about this great video! (1 hour 40 min)
Volume 14 – Crafts for the field
"Crafts for the Field" covers some of the skills we get asked about most . This video investigates the thermoplastic called Kydex and how to mold and use it. It shows you how to cover a Kydex sheath with leather to give the sheath that Woodsmaster look without losing the safety of Kydex. It shows you how to make a small concealed carry holster from kydex, how to make leather buttons, a ditty bag, and a special Woodsmaster fingerless glove. (1 hour and 45 minutes)
Volume 15 – Sticks, Stoves and Stitches
Another video in the Woodsmaster "close-up series"! In this video you will see how to make an efficient, lightweight and simple alcohol stove with aluminum cans you might find anywhere. You will also learn how to layout, size and make a pair of moccasins using rawhide and leather. Been having problems starting a fire with a fire drill? Learn how in this video. (1 hour 20 minutes)
Volume 16 – Buffalo Butchers; Meat and Material from Large Game
Volume 17 – Buffalo Butchers: The Final Chapter
Volume 18 – Bronze 1 Molding, Copying and Casting
Go to Romania to see ancient Bronze metal work and then learn Lost wax casting from the experts. This is the start of your adventure into home casting for fun and profit.
Volume 19 – Bronze 2 – The Home Foundry
In this volume you learn how to build your home foundry, how to construct a propane burner and how to make a Dual fuel (propane or charcoal) furnace constructed from a flowerpot.
Volume 20 – Bronze 3 – The Final Steps
In this volume learn the final steps needed to cast in sand and plaster as well as how to make the frame or flask for the sand, How to recover bronze and plaster, how to create molds for delicate items and much more.
Volume 21 – Family Camping V1
Join Ron, Karen and Jesse Hood and their friends as they pack into the woods and bring you along!
---
Each DVD only $15.95
Order information Here or call
Orders and information: (208) 651-6309
MasterCard, Visa, American Express, Discover, Check, or Money Order