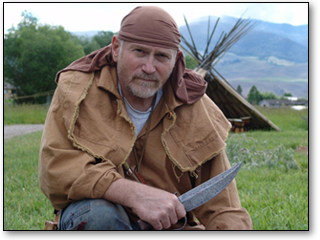 We are very sad to have to announce the sudden and unexpected passing of a great man, Ron Hood on June 22, 2011. Ron was born on the early morning of Jan 13, 1944 to Delos and Lucille Hood. Ron spent 2 tours in Vietnam with the intelligence community Army Security Agency (ASA). After his 4 years of military service ('64-'67) he completed his MS and his Doctoral studies at Pepperdine and for over 20 years taught accredited classes in wilderness skills at UCLA, Cal State Northridge and trained the military. He has authored numerous articles for national magazines and published a guide book to the Sierra Nevada of California. Ron has been featured in dozens of TV programs, including Johnny Carson Show, Dinah Shore Show, Backpacker Magazine's Show "Any Place Wild", Mythbusters, Ultimate Survival, as well as many others. He recently completed a Pilot Episode (TV show) show with GRB Entertainment. Along with his wife, best friend and soulmate Karen, Ron started Survival.com and they have together produced 30 Telly Award winning survival training DVD's that are widely considered to be the best outdoor and urban survival training aides with tens of thousands of military and civilian customers/friends located around the globe. Ron was on the elite Pro Staff at Buck Knives and has designed several blades for them (some of which have not yet been produced for sale.) Ron and Karen are also the publishers of the wildly successful Survival Quarterly Magazine that specializes in all forms of survival and preparedness.
Ron will be remembered as a very fun, energetic and loving person. He would light up the room when he entered. He will be remembered as a loving father and husband. He touched many people's hearts. Those of you who knew him knew him to be not only smart, but also fun to be around and very loyal to his friends and family. As a testament to Ron's character, he was eligible for a Purple Heart, but declined out of respect to his fellow soldiers and best friend who lost their lives while by his side.
Ron and Karen just celebrated their 20th anniversary in May. Ron is survived by his loving wife, Karen, 7-year old son Jesse, father Del and sister Judy (and husband Bill) Wilkinson, nephew Jeff and niece Jennifer (James) and many other family members. He will be greatly missed by all who were lucky enough to know him and be graced with his larger than life personality, love and knowledge of all things wild. Sweet dreams, my love.
There was a private family service earlier this week and it will be followed with a celebration of his life.
If you would like to support Karen and her son Jesse, you can go to www.survival.com and place an order with them (orders can be placed on the online store). Or you can make donations at any Mountain West Bank to the "Ronald D. Hood Memorial Fund." www.mountainwestbank.com or Contact Dona Miller (208) 763-3419.
---
Ron's Obit at English Funeral Chapels
http://www.englishfuneralchapel.com/English/obits/2011/R_Hood.htm